Queen of Dust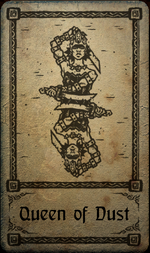 The Queen of Dust is the third Court boss in Hand of Fate, as well as a Monster Card which can be encountered normally after her defeat.
The Queen of Dust is a female bandit, armed with a large sword, and accompanied by three other bandits. She spawns with a unqiue, immobile crossbow turret that shoots at the player every few seconds. The crossbow is considered an additional enemy and must be killed to end the encounter. It has about as many hit points as a bandit, but does not suffer from stun-lock. When encountered as a boss, the Queen of Dust will be accompanied by one monster card.
Most of the Queen of Dust's attacks cannot be blocked and must be dodged. She has three attacks - one is a single attack, which deals above-average damage for a bandit, a variant of that that can be blocked, and the third is a series of five attacks which can easily trap the player into being struck five times, with each attack doing about as much damage as a normal bandit's attack. After she has been defeated the first time, she will throw knives in subsequent encounters. These can be deflected.